Aluminum honeycomb core is manufactured by aluminum foil and special aluminum foil node glue. Aluminum foil for aluminum honeycomb core includes 3003 aluminum foil/3004 aluminum foil/5052 aluminum foil, etc. It has multiple advantages such as better environmental protection, heat insulation, attraction and strong pressure-bearing capacity.
Product introduction of aluminum foil for aluminum honeycomb core
Aluminum honeycomb panels include upper and lower base plates and panels. They mainly use high-quality 3003-H24/3004 or 5052-H14 alloy aluminum plates. The thickness of the aluminum plates is between 0.4mm-3.0mm.The aluminum honeycomb core material is a hexagonal honeycomb core made of 3004 aluminum foil. The aluminum foil thickness is 0.02~0.06mm, and the aluminum honeycomb side length models include 5mm, 6mm, 8mm, 10mm, 12mm, etc.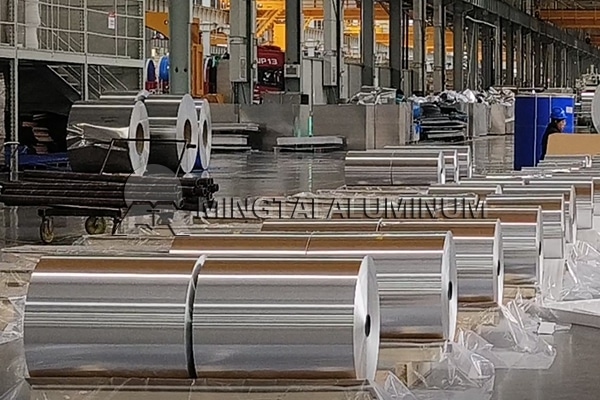 Performance advantages
1. It is light in weight, high in strength and rigid, and can be widely used in exterior wall decoration of high-rise buildings;2. Honeycomb aluminum foil has low density and light weight, which can greatly reduce the cost and load of the building;3. The middle layer of honeycomb aluminum foil contains a large amount of air, which can be used for sound insulation, heat insulation, waterproof, moisture-proof, heat preservation, and no harmful gas release, etc.;4. It has high unit mass strength, high stiffness, not easy to deform, excellent surface flatness, and good seismic resistance;5. It is highly decorative, easy to process, energy-saving and environmentally friendly, has high recycling rate and low cost.
Aluminum foil
manufacturer
Henan Mingtai is a professional aluminum foil manufacturer with strong strength, rich production experience, professional large-scale advanced equipment, exquisite craftsmanship and long-term qualifications. Over the years, it has been recognized by the majority of users for its high-quality products and services. If you want to know more related product information and preferential quotations, you can click online consultation.