The aluminum coil products produced by Mingtai Aluminum include 1/2/3/5/6 series products, and the 5754 aluminum alloy coil products have relatively high sales in the market. 5754 aluminum alloy coil belongs to AL-MG rust-proof aluminum. It has the characteristics of medium strength, good corrosion resistance, weldability and easy processing and forming. It is a typical alloy among Al-Mg series alloys. 5754 aluminum alloy coils in different heat treatment states are the main materials used in the automobile manufacturing industry (car doors, molds, seals) and the canning industry (tank truck body materials).
5754 aluminum coil product specifications
Typical alloy 5754 aluminum coil
Material status F, O, H111, H12, H14, H16, H18, H22, H24, H26, H28, H32, H34, H36, H38
Thickness (mm)0.2-10
Width (mm)100-2650
Length(mm)C
Typical products include high-speed rail noise barriers, tank car body materials, alloy doors and windows, etc.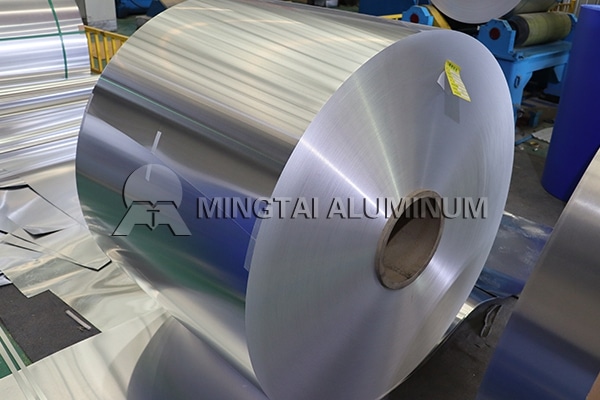 5754 aluminum coil manufacturers production advantages
1. High corrosion resistance, medium strength, and good weldability;
2. Low density, high tensile strength and high elongation
3. Strictly control product ingredients.
How much does 5754 aluminum alloy coil cost?
Different 5754 aluminum coil price manufacturers quote different prices, which is related to the production capacity, product quality and other costs of the aluminum coil manufacturer. The price of 5754 aluminum coils will also be different depending on the manpower investment costs of manufacturers in raw materials. The specific price of 5754 aluminum coil requires a reasonable product processing fee quotation based on thickness, width, status and other information. Based on the market price of aluminum ingots and processing fees, you can obtain market quotations.
5754 aluminum alloy coil supplier
Mingtai Aluminum is a large supplier of 1-8 series aluminum plate, strip and foil products. The products are exported to more than 130 regions at home and abroad. The company adopts an on-demand customization method and produces according to customer needs. Factory direct supply. Original factory warranty,