3004 aluminum alloy sheet automobile stamping aluminum sheet, it is well known that in the production and manufacture, the stamping part is formed by extruding the sheet and strip with a die to produce plastic deformation, thus, the shape and size of the stamping part can be obtained. The stamping stock is mainly hot-rolled and cold-rolled aluminum plate and strip, while 3004 series aluminum plate belongs to aluminum-manganese alloy series, which has excellent formability and corrosion resistance, and can be processed as stamping parts. 3004 is a kind of aluminum-manganese alloy, it is a kind of widely used antirust aluminum, it has high plasticity in annealing state, good plasticity in semi-cold working hardening, low plasticity in cold working hardening, good corrosion resistance and good weldability, uses: mainly used for parts requiring high plasticity and good solderability, such as cans, mailboxes, gasoline or pipelines.
At the same time, 3004 aluminum sheet has good formability, solubility and corrosion resistance. It is used for processing parts that require good formability, high corrosion resistance and good weldability. It can meet the requirements of higher strength than 1 series of aluminum alloys, such as: kitchen utensils, storage tanks, liquid transport tanks and containers, radiators, construction materials, cable pipes, lighting materials, beverage cans.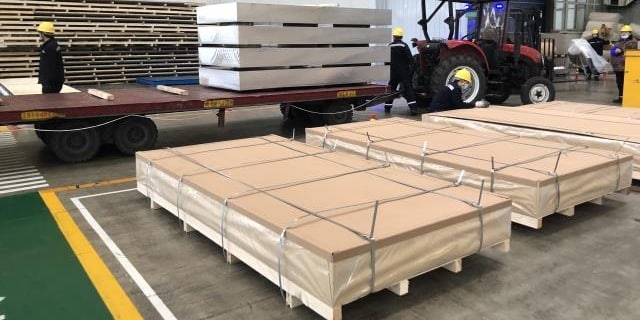 3004 aluminum alloy sheet automotive stamping parts aluminum sheet Manufacturers:
1. Strong strength
Mingtai Aluminum has factories in Zhengzhou, Gongyi, Xingyang and other places, and offices in Kunshan, Dongguan, Chongqing, South Korea and other regions. China's top 500 private manufacturing enterprises.
2. Advanced equipment
Mingtai Aluminum introduced a six-high cold rolling mill from SMS SMS from Germany. Production of ultra-wide and ultra-thick aluminum plates, the width can reach 2650mm, the thickness can reach 500mm, the internal stress is eliminated, and the cutting is not deformed. It is a rare manufacturer in China that can produce ultra-wide and ultra-thick aluminum plates.
3. Complete products
Mingtai Aluminum is a large-scale aluminum alloy listed company, specializing in the production of aluminum sheets, aluminum coils, and aluminum foils. The product category covers 1-8 series alloy grades. To undertake large orders, RMB/foreign currency prices can be quoted. Global export.