3003 aluminum plate is a 3 series aluminum-manganese alloy, which is a typical anti-rust aluminum plate. It has excellent processability, formability and solubility, and is suitable for many fields. Due to its high corrosion resistance, 3003 aluminum plates are widely used in humid environments such as cold storage, ventilation ducts, automobile fenders, and automobile water tanks. Here we mainly introduce 3003-H24 aluminum plate processing fee.
3003 aluminum plate is subdivided into multiple styles. Commonly used styles include O, H24, H14, H18, H22, etc. For different temperaments, there are differences in product performance and prices. 3003-H24 aluminum plate is one of the commonly used forms and can be used in auto parts, food storage devices, pipe insulation and other fields. The price of each manufacturer is different.
3003 aluminum plate price per ton
The price of 3003-H24 aluminum plate is composed of the market aluminum ingot price and the processing fee of 3003-H24 aluminum plate, which is related to the thickness, width, length and use of the product. Since the price of aluminum ingots fluctuates every day, and each manufacturer has different process levels and input costs, there is no unified quotation in the market. To know the detailed price, you need to provide the above parameters. Click on the right for online consultation to learn the latest price.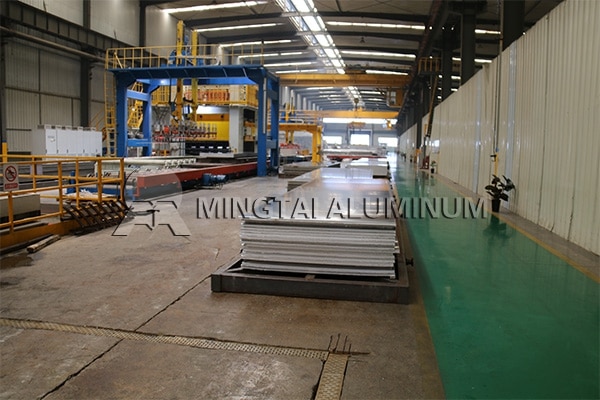 3003-H24 aluminum plate price
Mingtai Aluminum focuses on the production of 3003 hot-rolled aluminum plates. The thickness range is 0.2-500mm, the width range is 20-2650mm, and the length range is 500-16000mm. It has good formability and deep drawing properties. Using 3003 aluminum plates to make stamped parts, models, shells, etc. has many advantages such as good surface quality, good plasticity, and pressure resistance.Mingtai Aluminum is a large domestic aluminum plate, strip and foil manufacturer and a listed company. Since its establishment more than 20 years ago, it has always adhered to the business tenet of "same product with high quality, same quality with good price, same price with good service" and has gained a large number of customers. At the same time, it also establishes a good market image for the company. After years of technological accumulation, the company has become one of the most competitive large-scale comprehensive aluminum processing enterprises in China, with an annual output of more than 1.4 million tons of various aluminum plate, strip and foil products.The company supplies 1-8 series aluminum plates, strips and foils, which are customized and produced to meet the diversified needs of different industries and customers. If you are interested in our company's products, please contact us for further information.