Aluminum checker plate, also known as anti-slip aluminum plate, is mainly made of 1, 3, 5, and 6 series aluminum alloy sheets. Mingtai Aluminum can produce one-bar, three-bar, and five-bar aluminum checker plates, with alloy grades such as 1060/3003, 5052/5754/6061, etc. The aluminum checker plate is widely used in the fields of construction, vehicles, ships, and other non-slip flooring, decorative decoration, etc. 3003H24 aluminum checker plate is one of them.
3003 aluminum checker plate belongs to the aluminum-manganese series alloy. It has slightly higher strength than ordinary aluminum alloy checker plate material and has certain rust resistance. However, its hardness and corrosion resistance cannot reach the level of 5 series aluminum checker plate. Therefore, this product is applied in areas that do not have strict requirements for rust prevention, such as truck models and cold storage floors.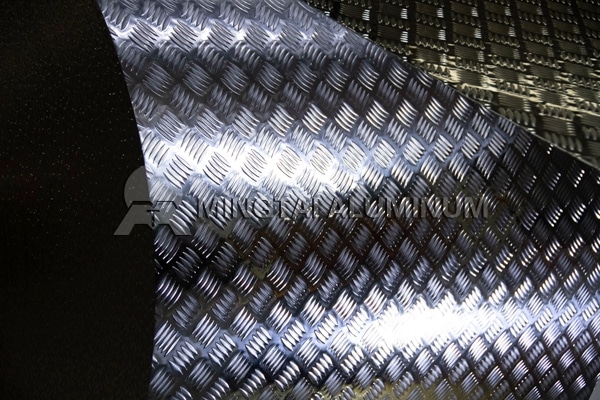 Small five-bar 3003 aluminum checker plate commonly has patterns such as three-bar and five-bar. The small five-bar pattern aluminum plate has patterns that are 1-2 centimeters smaller than the large five-bar pattern aluminum plate. It has good anti-slip properties and high mechanical performance. It is widely used in transportation, construction, decorative decoration, equipment surrounding bases, machinery, shipbuilding, and other fields.
The price of 3003 aluminum checker plate is determined by market aluminum ingot prices and processing fees charged by manufacturers. It is also related to the specifications and conditions of the products and the sales model of the manufacturers. Mingtai Aluminum is a direct-selling aluminum plate manufacturer, and 3003 aluminum checker plates are sold at factory prices, which has great advantages. The manufacturer provides original factory warranty, large production capacity, fast delivery, and guaranteed after-sales service.
Mingtai Aluminum is a strong aluminum plate manufacturer in the industry, with a large scale, complete equipment, and high level of technology. It has experienced technical workers and a series of standardized processes to ensure stable product quality. If you want to know more detailed information and get product discounts and quotations, you can click on the online consultation on the right side.