brazing 3003 aluminum sheets,3003 aluminum alloy is known for its excellent workability, high corrosion resistance, and good weldability. While brazing is typically used to join two different metals, it is possible to brazed 3003 aluminum sheets together to create a stronger joint or repair damaged areas.
When brazing 3003 aluminum sheets, it is important to select a suitable filler material that is compatible with this alloy. Generally, aluminum-silicon (Al-Si) filler alloys, such as 4047 or 4043, are commonly used for brazing aluminum. These filler alloys have a lower melting temperature compared to the base metal, allowing them to flow and bond with the aluminum without melting the base metal.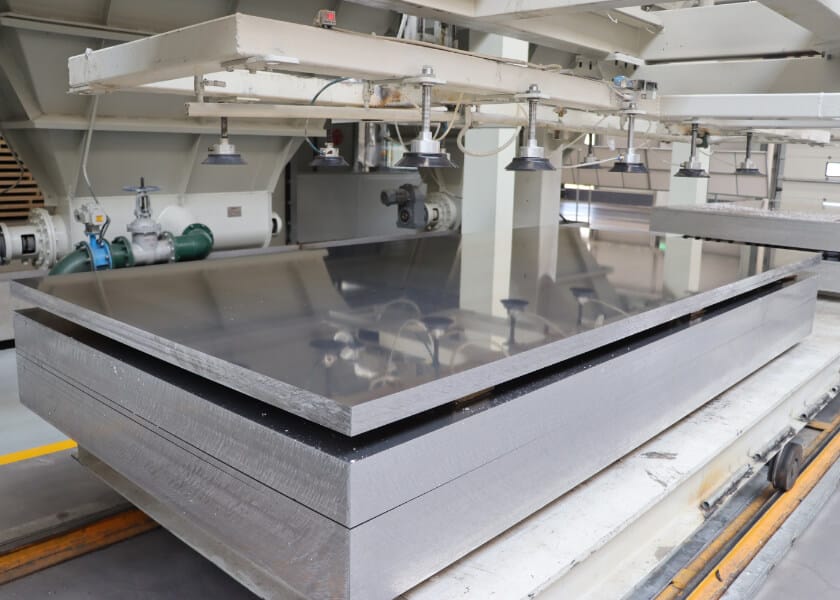 Technical parameter
Alloy

3000 series, 4000 series

Thickness

1.0-3mm

Width

100-2650mm

Length

500-16000mm

Typical products

brazing aluminum sheets
The process for brazing 3003 aluminum sheets
Clean the surfaces: Make sure both surfaces to be brazed are clean and free from dirt, oxide layers, or any other contaminants. This can be done by using a wire brush, sandpaper, or a chemical cleaner specifically formulated for aluminum.
Apply the flux: Apply a suitable brazing flux to the joint area and the filler material. The flux helps to remove any remaining oxides and promotes the flow of the filler material. There are different flux options available, such as flux paste or flux powder, so be sure to choose the one appropriate for your application.
Assemble the joint: Position the two 3003 aluminum sheets together, ensuring a tight fit and proper alignment. You can secure the joint with clamps or metal tape to prevent any movement during the brazing process.
Heat the joint: Apply heat to the joint area using a torch, furnace, or other suitable heat source. The temperature should be sufficient to melt the filler alloy but not high enough to melt the 3003 aluminum sheets. Generally, the recommended brazing temperature range for aluminum is between 600°C and 650°C (1112°F to 1202°F).
Apply the filler material: Once the joint area reaches the appropriate temperature, introduce the filler material to the joint. It should melt easily and flow into the joint through capillary action. Be sure to evenly distribute the filler material along the joint to create a strong bond.
Allow the joint to cool: After the joint is filled with the molten filler material, allow it to cool naturally. Avoid any abrupt cooling methods that may cause thermal stress or distortion.
Brazing 3003 aluminum sheets Manufacturers:
1. Strong strength
Mingtai Aluminum has factories in Zhengzhou, Gongyi, Xingyang and other places, and offices in Kunshan, Dongguan, Chongqing, South Korea and other regions. China's top 500 private manufacturing enterprises.
2. Advanced equipment
Mingtai Aluminum introduced a six-high cold rolling mill from SMS SMS from Germany. Production of ultra-wide and ultra-thick aluminum plates, the width can reach 2650mm, the thickness can reach 500mm, the internal stress is eliminated, and the cutting is not deformed. It is a rare manufacturer in China that can produce ultra-wide and ultra-thick aluminum plates.
3. Complete products
Mingtai Aluminum is a large-scale aluminum alloy listed company, specializing in the production of aluminum sheets, aluminum coils, and aluminum foils. The product category covers 1-8 series alloy grades. To undertake large orders, RMB/foreign currency prices can be quoted. Global export.