Introduction
3003 aluminum sheet for battery cooling plate, Good choice! 3003 aluminum sheet is a common alloy for battery cooling plates due to its excellent thermal conductivity, moderate strength and good corrosion resistance. It is widely used in various industries, including automotive and electronics industries.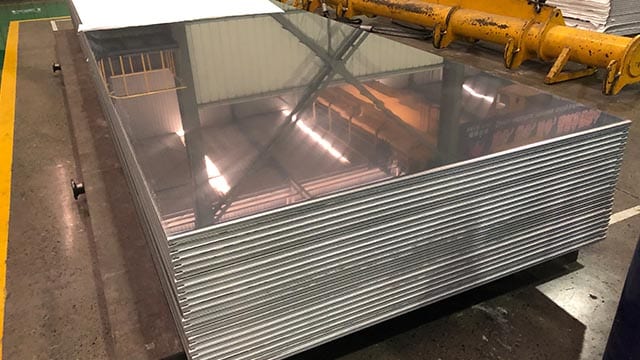 Technical parameter
Temper

O

Thickness

0.5-5mm

Width

100-2650mm

Length

500-16000mm

Typical products

battery cooling plate
When choosing a 3003 aluminum sheet for battery cooling plates, the following specifications need to be considered:
1, Thickness: The thickness of the sheet depends on your specific cooling requirements and design considerations. Common thicknesses for battery cooling plates range from 0.5mm to 5mm.
2, Size: Determine the size of the sheet according to the size of your battery cooling plate. Custom sizes are often available to meet your needs.
3, Surface finish: Depending on your application, you can choose a milled finish or a coated surface. Coated surfaces can provide additional corrosion protection or enhance heat transfer.
4, Quality: Ensure that the aluminum plate meets the specified quality standards, such as the American Society for Testing and Materials (ASTM) specifications.
3003 aluminum sheet for battery cooling plates Manufacturers:
It is recommended to consult a trusted aluminum sheet supplier or manufacturer who can provide technical advice and help you select the appropriate 3003 aluminum sheet for your battery cooling plate. They can also provide information on pricing, availability, and any additional features or services that might be beneficial to your application.
1. Strong strength
Mingtai Aluminum has factories in Zhengzhou, Gongyi, Xingyang and other places, and offices in Kunshan, Dongguan, Chongqing, South Korea and other regions. China's top 500 private manufacturing enterprises.
2. Advanced equipment
Mingtai Aluminum introduced a six-high cold rolling mill from SMS SMS from Germany. Production of ultra-wide and ultra-thick aluminum plates, the width can reach 2650mm, the thickness can reach 500mm, the internal stress is eliminated, and the cutting is not deformed. It is a rare manufacturer in China that can produce ultra-wide and ultra-thick aluminum plates.
3. Complete products
Mingtai Aluminum is a large-scale aluminum alloy listed company, specializing in the production of aluminum sheets, aluminum coils, and aluminum foils. The product category covers 1-8 series alloy grades. To undertake large orders, RMB/foreign currency prices can be quoted. Global export.