Introduction
3003 aluminum sheet is a typical Al-Mn alloy. The 3003 aluminum plate produced by Mingtai Aluminum is often used to make power battery casings in lightweight vehicles, brazed water-cooled plates, battery separators, cooking utensils, food storage devices, tanks and warehouses on transportation equipment, metal sheet pressure vessels and pipes, etc.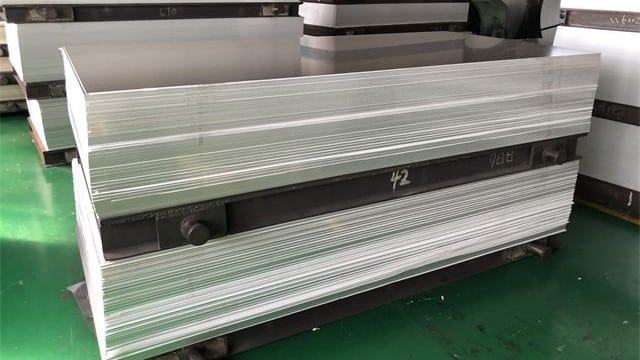 3003 Aluminum Sheet Performance Advantages:
1. Low plasticity, good corrosion resistance
2. Good formability, weldability and corrosion resistance
3. Good weldability
Technical parameter
Temper

O, H12, H14, H16, H18, H19, H22, H24, H26, H28, H112, ect

Thickness

0.2-500mm

Width

20-2650mm

Length

500-16000mm

Typical products

Stock silos, antenna pot materials, power battery shells, automotive heat shields, etc.
Application
Battery Shell
New energy vehicle power battery shell, top plate, separator, which can be stamped into a square or round battery shell.
Water Cooling Plate
3003mod aluminum plate, 3003*4343/3003*4045 aluminum sheet can be used for new energy vehicle power battery brazing water cooling plate or condensation/radiation equipment.
Pipe Insulation
Mingtai Aluminum 3003 aluminum coils can be used as pipe insulation materials. It is mostly used in chemical factories, and its anti-rust function is better than that of 1-series aluminum coils.
3003 Aluminum Foil
Aluminum foil for honeycomb core, aluminum foil for lunch box, aluminum foil for container.
Advantage

Customizable advantages
Henan mingtai technology is tailored according to user needs.

Raw material advantages
Choose reliable large-scale suppliers, purchase key raw materials, and control quality from the source.

Process advantages
More than 20 years of rich experience, mature technology and high level of craftsmanship.

Equipment advantages
3300mm wide "1+1" hot rolling production line; self-developed (1+4) hot tandem rolling production line; multiple large-scale equipment at home and abroad.

Packaging advantages
3003 aluminum coil packaging pays attention to moisture-proof and rain-proof, to ensure that the surface of the aluminum coil is intact and scratch-free.

Price advantage
Adjacent to the raw material producing area, own power plant, 1.3 million square meter large factory, large-scale production, factory direct supply mode, and high cost-effective products.
3003 aluminum plates are also commonly used in ships, ships, vehicle materials, automobile and aircraft plate weldments, pressure vessels that require strict fire protection, refrigeration devices, TV towers, drilling equipment, transportation equipment, bus skins, silos, antenna pans materials, wide curtain wall panels, wide roof panels, etc.
Strength of 3003 Aluminum Sheet Manufacturers:
1. Strong strength
Mingtai Aluminum has factories in Zhengzhou, Gongyi, Xingyang and other places, and offices in Kunshan, Dongguan, Chongqing, South Korea and other regions. China's top 500 private manufacturing enterprises.
2. Advanced equipment
Mingtai Aluminum introduced a six-high cold rolling mill from SMS SMS from Germany. Produce ultra-wide and ultra-thick aluminum plates, the width can be 2650mm, the thickness can be 500mm, the internal stress is eliminated, and the cutting is not deformed. It is a rare manufacturer in China that can produce ultra-wide and ultra-thick aluminum plates.
3. Complete products
Mingtai Aluminum is a manufacturer of 3003 aluminum sheets, supplying 3003 hot-rolled aluminum sheets, 3003 patterned aluminum sheets, 3003 medium-thick aluminum sheets, 3003 aluminum alloy sheets and other products of various specifications. Mingtai Aluminum is a large-scale aluminum alloy listed company, and its product categories cover 1-8 series alloy grades. To undertake large orders, RMB/foreign currency prices can be quoted. Global export.