Introduction
6082 aluminum plate is a heat-treatable alloy with good formability, weldability, machinability and corrosion resistance. It also has medium strength and can maintain good operability after annealing.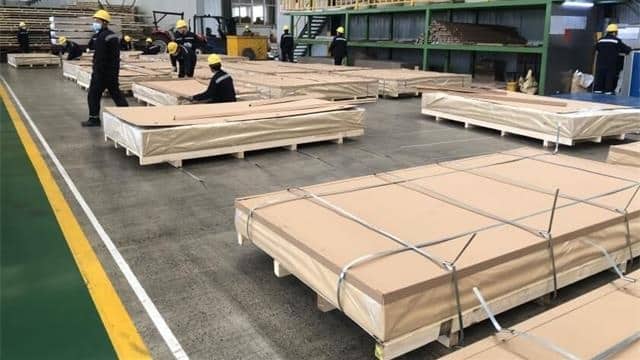 Technical parameter
Temper

F,O,T4,T6,T651,H112

Thickness

8-500mm

Width

500-2600mm

Typical products

Mobile phone, camera lens, industrial mold, etc
Performance Advantages of Mingtai Aluminum 6082 Aluminum Plate
1. It has good corrosion resistance, can be machined, welded, and has excellent molding performance;
2. It has medium strength and can maintain good operability after annealing.
3. It has good anodic reaction performance. Common anodic reaction methods include removing impurities, dyeing, coating, etc;
4. Easy to polish, color film, oxidation effect is excellent;
5. High strength, high toughness, good usability and excellent interface characteristics.
Application
Used in Transportation and Structural engineering industry.
6082 aluminum plate is mainly used in transportation and structural engineering industry. For example, bridges, cranes, roof frames, transporters and transport ships are ideal materials for manufacturing high-speed ship components; Camera lens, coupler, ship accessories and hardware, electronic accessories and other air conditioning pipes, automotive aluminum, etc.
Strength

Customizable advantages
Henan mingtai technology is tailored according to user needs.

Raw material advantages
Choose reliable large-scale suppliers, purchase key raw materials, and control quality from the source.

Process advantages
More than 20 years of rich experience, mature technology and high level of craftsmanship.

Equipment advantages
3300mm wide "1+1" hot rolling production line; self-developed (1+4) hot tandem rolling production line; multiple large-scale equipment at home and abroad.

Packaging advantages
3003 aluminum coil packaging pays attention to moisture-proof and rain-proof, to ensure that the surface of the aluminum coil is intact and scratch-free.

Price advantage
Adjacent to the raw material producing area, own power plant, 1.3 million square meter large factory, large-scale production, factory direct supply mode, and high cost-effective products.
Mingtai Aluminum 6082 Aluminum Plate Manufacturer
Henan Mingtai Aluminum Co., Ltd., a large aluminum sheet, strip and foil manufacturer, supplies and produces 1-8 series alloy aluminum plate products, with an annual capacity of 800000 tons, customized according to demand, delivery time of 2-25 days, and provides a4 sample test.
Mingtai Aluminum 6082 aluminum sheet manufacturer, producing 8-500mm aluminum plate, customized production, 2-25 days delivery time, global sales, welcome to consult.