Introduction
6063 aluminum plate is an Al-Mg-Si series high plastic alloy, which is one of the advantages of Mingtai Aluminum. It has excellent processing performance, excellent weldability, extrudability and electroplating, good corrosion resistance, toughness, easy polishing, coating and excellent anodizing effect.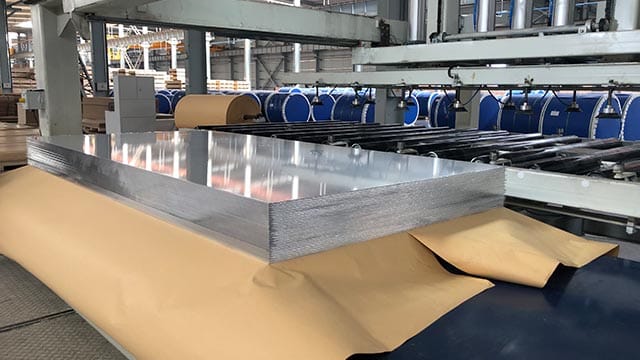 Technical parameter
Temper

F,O,T4,T6,T651,H112

Thickness

8-500mm

Width

500-2650mm

Typical products

Mobile phone card slot, mobile phone shell, mold, car, mask machine, precision machining, etc
Performance Advantages of Mingtai Aluminum 6063 Aluminum Plate
1. 6063 aluminum plate is one of the advantageous products of Mingtai Aluminum. The 6063 aluminum alloy plate produced by Mingtai Aluminum is far beyond the national standard, and the original factory warranty is provided, which makes the quality more reliable. It is widely used in the fields of automobile lightweight, mobile phone shell, and so on, and its reputation is widely spread;
2. The machined surface is very smooth and easy to anodize and stain;
3. The welding performance and corrosion resistance are excellent, and there is no tendency of stress corrosion cracking. Among the heat-treatable aluminum alloys, the Al-Mg-Si alloy is the alloy without stress corrosion cracking;
4. 6063 alloy aluminum plate is heat treated and strengthened, with high impact toughness and insensitive to notch.
Strength

Customizable advantages
Henan mingtai technology is tailored according to user needs.

Raw material advantages
Choose reliable large-scale suppliers, purchase key raw materials, and control quality from the source.

Process advantages
More than 20 years of rich experience, mature technology and high level of craftsmanship.

Equipment advantages
3300mm wide "1+1" hot rolling production line; self-developed (1+4) hot tandem rolling production line; multiple large-scale equipment at home and abroad.

Packaging advantages
3003 aluminum coil packaging pays attention to moisture-proof and rain-proof, to ensure that the surface of the aluminum coil is intact and scratch-free.

Price advantage
Adjacent to the raw material producing area, own power plant, 1.3 million square meter large factory, large-scale production, factory direct supply mode, and high cost-effective products.
6063 Aluminum Plate Price
The raw materials, processing technology and labor costs of different aluminum plate manufacturers are different, and the prices are different. The specifications required by different users are different in length, width and thickness. Even if it is the same 6063 aluminum plate manufacturer, the quotation is also different.
6063 aluminum plate price=Changjiang aluminum ingot price on the day of shipment+processing fee (provide 6063 aluminum plate length, width, thickness and quantity).
Mingtai Aluminum 6063 Aluminum Plate Manufacturer
Mingtai 6063 aluminum sheet supplier produces F, O, H112, T4, T6, T651 and other aluminum sheets in different states, 6063t6 aluminum sheet and 6063t651 aluminum sheet with high market sales.
Mingtai Aluminum produces 0.3-600 mm thick and 2650 mm wide aluminum plates. There are few 6063 ultra-wide aluminum plate manufacturers.
Mingtai Aluminum supplies 6063 extruded aluminum plate, 6063 patterned aluminum plate, 6063 national standard aluminum plate, 6063 medium-thick aluminum plate, 6063 ultra-wide aluminum plate, etc.