Introduction
Henan Mingtai 5182 aluminum plate manufacturer can customize and produce 5182 aluminum plates in all states according to customer needs, with thickness range of 8-600mm, width range of 20-2600mm, and length range of 500-1600mm.
The 5182 aluminum plate and 5182l aluminum plate produced by Mingtai Aluminum are often used as plates to process the easy-open can cover, the outer plate and deck of the ship side hull, the automobile body plate, the operating panel, the stiffener and the bracket. Because of its high performance-price ratio, it has been applied in batches in many industries, such as automobile interior parts, pull ring materials, easy-open can tube cover materials, refrigeration devices, electrical enclosures, cabinets and other components.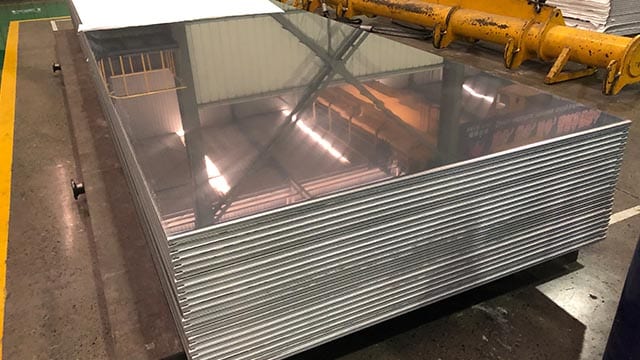 Technical parameter
Temper

O,H12,H14,H16,H18,H19,H22,H24,H26,H28,H32,H34,H36,H38

Thickness

8-500mm

Width

500-2650mm

Typical products

Car door, mold and seal
Performance Advantages Of 5182 Aluminum Plate
1. 5182 aluminum plate is one of the best-selling products of Mingtai Aluminum. The aluminum plate produced by Mingtai has no defects on the surface, flat version and high quality.
2. 5182 alloy aluminum plate has good corrosion resistance, good cold workability and medium strength. High tensile strength and yield strength.
3. 5182 alloy aluminum plate contains a small amount of Si, with excellent welding performance and low crack tendency during welding.
4. Mingtai Aluminum has strong strength, with 6 semi-continuous casting production lines, 10 continuous casting and rolling production lines, and 44 other large processing equipment, with an annual capacity of 1 million tons
Strength

Customizable advantages
Henan mingtai technology is tailored according to user needs.

Raw material advantages
Choose reliable large-scale suppliers, purchase key raw materials, and control quality from the source.

Process advantages
More than 20 years of rich experience, mature technology and high level of craftsmanship.

Equipment advantages
3300mm wide "1+1" hot rolling production line; self-developed (1+4) hot tandem rolling production line; multiple large-scale equipment at home and abroad.

Packaging advantages
3003 aluminum coil packaging pays attention to moisture-proof and rain-proof, to ensure that the surface of the aluminum coil is intact and scratch-free.

Price advantage
Adjacent to the raw material producing area, own power plant, 1.3 million square meter large factory, large-scale production, factory direct supply mode, and high cost-effective products.
5182 Aluminum Plate Manufacturer
Mingtai Aluminum is a large modern aluminum processing enterprise integrating scientific research, processing and manufacturing. The company can produce 1-8 series aluminum plate, strip and foil products with complete specifications and an annual capacity of 1 million tons to meet your personalized processing needs.
Mingtai Aluminum is a professional large 5182 aluminum plate manufacturer with high-quality material selection and reasonable pricing scheme, which makes the product price more affordable, quality more guaranteed, product cost-effective, and provides users with perfect and considerate after-sales service, with complete product specifications.
Mingtai supplies 5182 hot-rolled aluminum plate, 5182 ultra-wide aluminum plate, 5182 patterned aluminum plate, 5182 aluminum plate with four doors and two covers, etc.