Introduction
5005 aluminum plate has medium strength and good corrosion resistance, fusion and processing, and the anodic oxide film is brighter than that on 3003 alloy.
5005 aluminum plate is used in automobile parts such as automobile inspection fixture, automobile fender, etc. 5005 aluminum alloy plate is often used as conductor, cooker, instrument panel, shell and building decoration, interior and exterior decoration of building materials, interior decoration of vehicles, etc.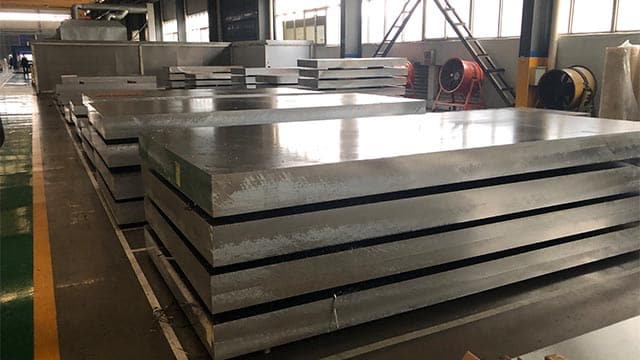 Technical parameter
Temper

O,H12,H14,H16,H18,H19,H22,H24,H26,H28,H32,H34,H36,H38

Thickness

8-500mm

Width

500-2650mm

Typical products

Curtain wall panel, cooker, instrument shell, building decoration, oxidizing material, etc
Performance Advantages Of 5005 Aluminum Plate
1. Low density, high tensile strength, high elongation, good welding performance, can't be strengthened by heat treatment, but can only be strengthened by cold processing;
2. The 5005 alloy aluminum plate produced by Mingtai Aluminum adopts the continuous casting and rolling process, which has good formability, corrosion resistance, weldability and oxidation deep processing performance;
3. The "1+1" production line put into operation by Mingtai Aluminum provides a strong foundation for the large-scale production of 5005 aluminum plate and further ensures the good performance of 5005 aluminum plate.
Strength

Customizable advantages
Henan mingtai technology is tailored according to user needs.

Raw material advantages
Choose reliable large-scale suppliers, purchase key raw materials, and control quality from the source.

Process advantages
More than 20 years of rich experience, mature technology and high level of craftsmanship.

Equipment advantages
3300mm wide "1+1" hot rolling production line; self-developed (1+4) hot tandem rolling production line; multiple large-scale equipment at home and abroad.

Packaging advantages
3003 aluminum coil packaging pays attention to moisture-proof and rain-proof, to ensure that the surface of the aluminum coil is intact and scratch-free.

Price advantage
Adjacent to the raw material producing area, own power plant, 1.3 million square meter large factory, large-scale production, factory direct supply mode, and high cost-effective products.
Executive Standard of 5005 Aluminum Plate
The national standard for aluminum sheet and strip (GB/T 3880-2006) is applicable to the unified standard for aluminum alloy sheet and strip materials.
5005 Aluminum Plate Manufacturer
Mingtai Aluminum 5005 aluminum plate manufacturer, with production specification thickness of 0.1-500mm, maximum width of 2650mm, complete specifications, customized production by the manufacturer, providing original quality assurance and quality assurance.
Mingtai Aluminum produces 5005 medium-thick aluminum plate, 5005 ultra-thick aluminum plate, 5005 patterned aluminum plate, 5005h34 and other aluminum plates in different states and specifications.
Strong strength: 1.3 million standard plant, advanced equipment and mature technology of German Simark six-high cold rolling mill
Service features: customized on demand, A4 samples, global sales