Introduction
3104 aluminum plate is a deformed aluminum alloy with tensile strength greater than or equal to 275MPA and elongation up to 20%; It has good deep-drawing performance and is suitable for thinning, stretching and lightweight to reduce the material consumption. The requirements for each process of the beverage can cover and bottom material are strict. Our company strictly controls each process, so that the product has appropriate strength and formability.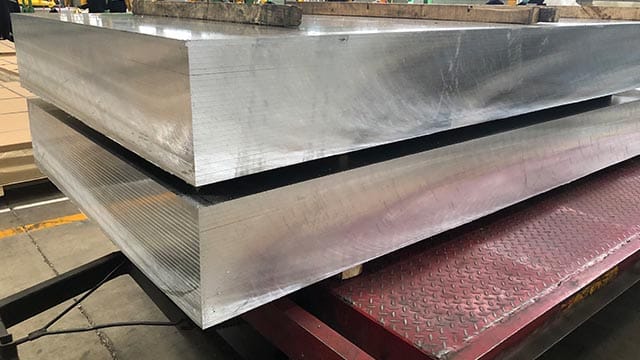 Technical parameter
Temper

O,H12,H14,H16,H18,H19,H22,H24,H26,H28,H32,H34,H36,H38

Thickness

8-500mm

Width

500-2650mm

Typical products

Lamp cap material, shutter, easy-to-open can material, oxidizing material, LCD back plate, cake tray
Performance Advantages Of 3104 Aluminum Plate
1. 3104 aluminum plate has high strength and excellent elongation.
2. It has its own advantages in exfoliation corrosion and SCC (stress corrosion cracking).
3. 3104 aluminum alloy plate has good corrosion resistance, formability and weldability.
4. Mingtai Aluminum 3104 aluminum plate manufacturer strictly controls the quality of finished products through quality inspection layer by layer during the production process.
Strength

Customizable advantages
Henan mingtai technology is tailored according to user needs.

Raw material advantages
Choose reliable large-scale suppliers, purchase key raw materials, and control quality from the source.

Process advantages
More than 20 years of rich experience, mature technology and high level of craftsmanship.

Equipment advantages
3300mm wide "1+1" hot rolling production line; self-developed (1+4) hot tandem rolling production line; multiple large-scale equipment at home and abroad.

Packaging advantages
3003 aluminum coil packaging pays attention to moisture-proof and rain-proof, to ensure that the surface of the aluminum coil is intact and scratch-free.

Price advantage
Adjacent to the raw material producing area, own power plant, 1.3 million square meter large factory, large-scale production, factory direct supply mode, and high cost-effective products.
The RFQ of3104 Aluminum Plate
How many tons of your products do you order? What if the demand is small?
Hello, starting from 8 tons of each specification; The demand is small. Let customer service help you to check the stock.
Are you a factory or a dealer?
Hello, Mingtai Aluminum is a large aluminum sheet, strip and foil manufacturer and listed company. Users are all over the world. Samsung, Haier, Hitachi and others are our long-term partners. We can purchase with confidence.
Is your offer fixed?
Hello, our quotation consists of two parts. The closing average price of Yangtze River spot aluminum ingot+processing fee on the day of shipment. Because the aluminum ingot price fluctuates daily, the quotation will fluctuate.
What is the quotation process?
Hello, contact customer service - inform customer service demand information - enter the system - reply to the quotation by phone or SMS from the business manager within 5 minutes.
How to get the quotation?
Hello, please provide the thickness, width, length (mm) and total demand (ton) of the required products, so that we can provide you with accurate quotation. For example, 3004 aluminum plate, 3 * 1220 * 2440mm, demand 30 tons/month, easy-to-pull can material.