Introduction
The strength of 2024 aluminum plate is much higher than that of 7075 aluminum plate. The formability is good both in the hot state and in the annealed and newly quenched state. The heat treatment process of 2024 aluminum plate is strict, so the heat treatment strengthening effect is significant.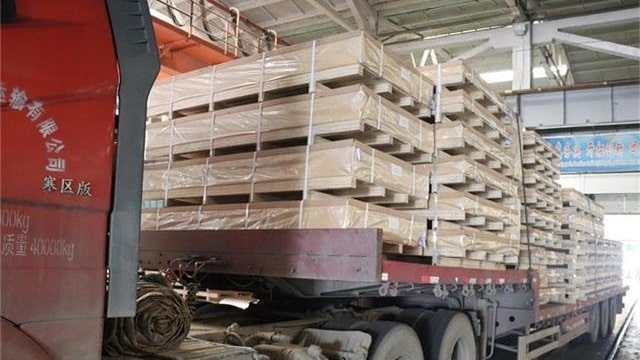 Technical parameter
Temper

O,T3,T4,T6

Thickness

8-500mm

Width

800-2650mm

Typical products

Automobile, truck hub, mold, rivet, Components and other structural members
Performance Characteristics Of 2024 Aluminum Plate Produced By Mingtai
1. The tensile strength is large, and the natural effect of quenching is long.
2. Good corrosion resistance and fatigue resistance.
3. The aluminum plate is of good shape, flat layout, free of oil spots, bumps, scratches and roller marks.
4. It has good room temperature strength and excellent heat resistance. When the content of Cu is low, the decomposition tendency of low concentration solid solution is small, which improves the heat resistance.
Strength

Customizable advantages
Henan mingtai technology is tailored according to user needs.

Raw material advantages
Choose reliable large-scale suppliers, purchase key raw materials, and control quality from the source.

Process advantages
More than 20 years of rich experience, mature technology and high level of craftsmanship.

Equipment advantages
3300mm wide "1+1" hot rolling production line; self-developed (1+4) hot tandem rolling production line; multiple large-scale equipment at home and abroad.

Packaging advantages
3003 aluminum coil packaging pays attention to moisture-proof and rain-proof, to ensure that the surface of the aluminum coil is intact and scratch-free.

Price advantage
Adjacent to the raw material producing area, own power plant, 1.3 million square meter large factory, large-scale production, factory direct supply mode, and high cost-effective products.
2024 Aluminum Plate Manufacturer
2024 aluminum plate is one of the advantages of Mingtai Aluminum. The product belongs to high-strength duralumin and has certain heat resistance. It has good formability in hot state, annealing and newly quenched state. The heat treatment strengthening effect is significant, but the heat treatment process requirements are strict.
The 2024 aluminum plate processing technology of Mingtai Aluminum meets the national standards, provides the original factory warranty, and is widely used in mold and other fields. With good reputation and high market recognition, it can be purchased with confidence.
Mingtai Aluminum supplies 2024 medium-thick aluminum plates, which are customized and sold globally