Introduction
Korean 3003h14 aluminum coil , Recently, we received a prepayment from a Korean customer for 20 tons of 3003h14 aluminum coil, which is a commonly used product in the aluminum manganese alloy series. Due to the presence of manganese alloy elements, this product has excellent rust prevention properties and is also known as a rust resistant alloy.
The strength of Korean 3003h14 aluminum coil is 10% higher than that of 1-series aluminum coil, with good formability, solubility, and corrosion resistance. For processing, good formability, high corrosion resistance, or both of these properties are required for applications with higher strength than 1-series alloys.
Application of Korean 3003h14 aluminum coil
In practice, 3003h14 aluminum coils are mainly used for ACP, kitchen utensils, food and chemical product processing and storage equipment, storage tanks and tanks for transporting liquid products, various pressure vessels and pipelines for sheet metal processing, wine bottle caps, beverage bottle caps, cosmetic bottle caps, etc.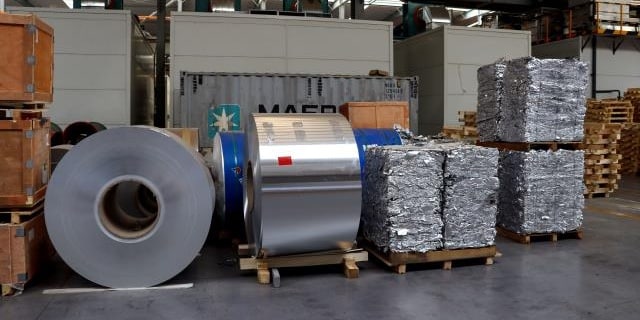 Korean 3003h14 aluminum coil price
In fact, there are many factors that affect the price of 3003h14 aluminum coil, such as alloy grade, tempering, thickness, width, quantity, market, etc. For example, the price of 3003-H114 aluminum coil is different from that of 3003-H114 aluminum coil. In addition, the price of 1.5mm thick 3003 aluminum coil is different from that of 6mm thick 3003 aluminum coil. The most noteworthy thing is that the fluctuation of aluminum ingot prices in the market at different times is also a key factor affecting prices. Therefore, when purchasing aluminum coil materials, we should compare our products with other companies and conduct inspections from multiple aspects in order to purchase high-quality and affordable aluminum alloy sheet coil materials!
3003h14 aluminum coil manufacturer
Henan Mingtai Aluminum Industry Co., Ltd. [stock code: 601677] was established in 1997. Mingtai Aluminum Industry is a large-scale modern aluminum processing enterprise that integrates scientific research, processing, and manufacturing. The company can produce a complete range of aluminum plate, strip, and foil products in the 1-8 series to meet your personalized processing needs.
The company has jurisdiction over Henan Mingsheng New Materials Co., Ltd., Henan Yirui New Materials Co., Ltd., and Zhengzhou Mingtai Industrial Co., Ltd. It currently has over 5000 employees, a total asset of 6 billion yuan, and a semi continuous casting production line. There are 10 continuous casting and rolling production lines, 44 other large-scale processing equipment, and an annual output of 1 million tons.