Introduction
5a06 aluminum alloy (AL-Mg) belongs to anti-rust aluminum with high content of magnesium. It has features such as high strength and corrosion stability, its plasticity is good after annealing or extrusion. Air tightness and weld plastic are also pretty good during welding seam of argon arc welding. The matrix strength of the welding joint of gas welding and spot welding is 90~95% and which has a good feature of machinability.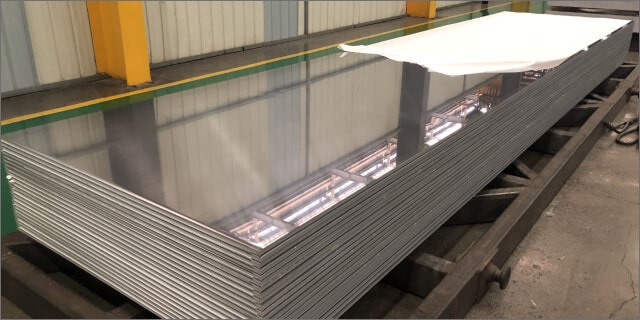 5a06 aluminum sheet features and applications
The main usages of 5A06 aluminum alloy are the skin parts and welding parts of aircraft, ships, automobiles, light rail, pressure vessel missile parts which need firing prevention strictly, armor, etc.
Technical parameter
Temper

O,H12,H14, H16,H18,H19, H22,H24,H26, H28,H32,H34 H36,H38,H111, H112,H114,H 116,H321

Thickness

0.15-600mm

Width

20-2650mm

Length

500-16000mm

Typical products

Aircraft outer covering bone part, welding parts and other
5a06 Aluminum sheet Packaging and Delivery:
Aluminum products of Mingtai Al. meet the export standards. Plastic film and brown paper can be covered at customers' need. What's more, wooden case or wooden pallet is adopted to protect products from damage during the delivery, especially from seawater. There are two kinds of packaging, which are eye to wall and eye to sky. Customers can choose either of them for their convenience. For more details, please contact us. Generally speaking, there are 2 tons in one package, and loading 18-22 tons in 1×20′ container, and 20-24 tons in 1×40′ container.
5a06 Aluminum sheet Quotation:
1. Different thicknesses of aluminum sheet have different prices
Mingtai Aluminum produces aluminum alloy thin sheet (0.2-8mm thickness) and medium-thick aluminum plate (8-400mm thickness). Accept orders of 8-5000 tons
2. Different widths of aluminum plates have different prices
Mingtai Aluminum produces conventional width aluminum plates of 1m/1.2m/1.5m, and customizes the production of ultra-wide aluminum plates of 2m/2.5m/2.65m. To undertake 8-5000 tons of orders.
3. Different requirements for aluminum sheets and different prices
Aluminum sheets have different production requirements according to different uses. Cast-rolling and hot-rolling processes are different, and there is a big difference in charges. To undertake 8-5000 tons of orders.
5a06 Aluminum sheet Manufacturers:
1. Strong strength
Mingtai Aluminum has factories in Zhengzhou, Gongyi, Xingyang and other places, and offices in Kunshan, Dongguan, Chongqing, South Korea and other regions. Produce aluminum sheet, strip and foil materials of various specifications with a thickness of 0.1-500mm, and export the products globally. China's top 500 private manufacturing enterprises.
2. Advanced equipment
Mingtai Aluminum introduced a six-high cold rolling mill from SMS SMS from Germany. The production of ultra-wide and ultra-thick aluminum plates eliminates internal stress and cuts without deformation. The width can reach 2650mm and the thickness can reach 500mm. It is a rare domestic manufacturer that can produce ultra-wide and ultra-thick aluminum plates.
3. Complete products
Mingtai Aluminum is a large aluminum alloy listed company, specializing in the production of aluminum alloy sheet, aluminum alloy plate and aluminum foil. The product category covers 1-8 series alloy grades. To undertake large orders, RMB prices and foreign currency prices can be quoted. Global export. The minimum order quantity for a single specification aluminum plate is 8 tons, and the minimum order for aluminum foil is 5 tons.