Introduction
3A21 aluminum sheet(Al-Mn)is an anti-rust aluminum which has a wildly application, the strength is not very high (only higher than industrial aluminum), and
cannot be heat treated, so cold working method is usually used to improve their
mechanical properties. It has a higher plasticity after annealing and it is better than in the semi-cold hardening. When it is cold-hardening, the plasticity and machinability are low, but it has good corrosion resistance and weldability.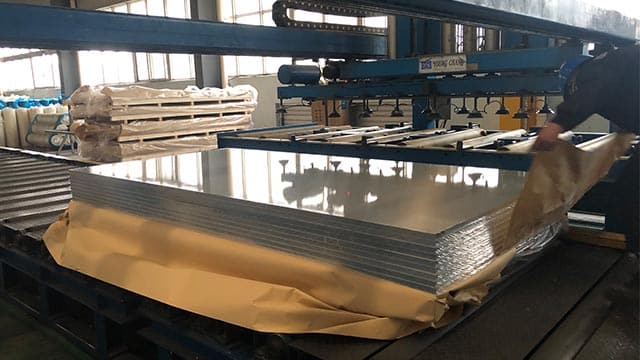 Technical parameter
Temper

F,O,H12,H14,H16 H18,H19,H22,H24 H26,H28,H111,H112,H114

Thickness

0.1-500mm

Width

20-2650mm

Length

500-16000

Typical products

Moulds, high-strength components, rivets, etc
Applications
3A21 aluminum alloy
3A21 aluminum alloy is mainly used for applications which requiring higher plasticity and good weldability, such as fixtures, automotive, transportation, production of propellant tank.
3A21 aluminum sheet
welded structure pods skin, end frames, frame and other welding members, as well as catheters and other members which work in corrosive media.
Advantage of Mingtai 3A21 aluminum sheet
Anti fatigue strength, high shear strength, and high elongation.
3a21 aluminum plate has excellent corrosion resistance and can adapt to humid environments.
The finished product layout is neat and free from defects such as bumps, highlights, scratches, etc.
Strong corrosion resistance and stress corrosion cracking.
3a21 Aluminum Sheet Manufacturers:
1. Strong strength
Mingtai Aluminum has factories in Zhengzhou, Gongyi, Xingyang and other places, and offices in Kunshan, Dongguan, Chongqing, South Korea and other regions. China's top 500 private manufacturing enterprises.
2. Advanced equipment
Mingtai Aluminum introduced a six-high cold rolling mill from SMS SMS from Germany. The production of ultra-wide and ultra-thick aluminum plates eliminates internal stress and cuts without deformation. The width can reach 2650mm and the thickness can reach 500mm. It is a rare manufacturer in China that can produce ultra-wide and ultra-thick aluminum plates.
3. Complete products
Mingtai Aluminum is a large-scale aluminum alloy listed company, specializing in the production of aluminum sheets, aluminum coils, and aluminum foils. The product category covers 1-8 series alloy grades. To undertake large orders, RMB/foreign currency prices can be quoted. Global export.