Introduction
1050 aluminum sheet contains more than 99.5% aluminum, which is one of the industrial pure aluminum.
1050 aluminum sheet has the characteristics of high plasticity, corrosion resistance, good electrical and thermal conductivity, etc., but its strength is low. Mingtai Aluminum can produce 1050 aluminum sheets with a width of 20-2650mm and a thickness of 0.1-500mm, which can be customized.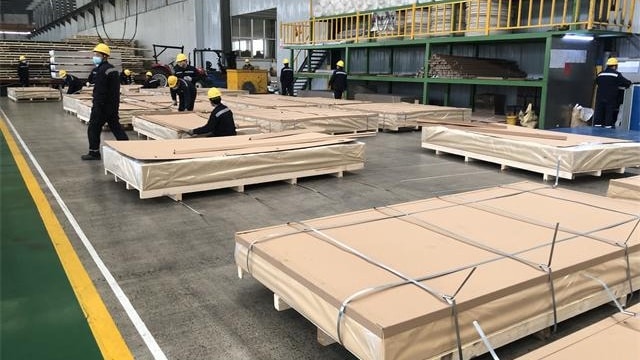 Technical parameter
Temper

O, H12, H14, H16, H18, H19, H22, H24, H26, H28, H112, ect

Thickness

0.1-500mm

Width

20-2650mm

Length

500-16000

Typical products

PS board base, signs, lamps, battery soft connection, etc.
Advantage
1. High plasticity, corrosion resistance, electrical conductivity, thermal conductivity
2. Gas welding, hydrogen atom welding and contact welding are all available
3. Easy to withstand various pressure processing and extension, bending
4. High recycling value, good molding processing characteristics

Customizable advantages
Henan mingtai technology is tailored according to user needs.

Raw material advantages
Choose reliable large-scale suppliers, purchase key raw materials, and control quality from the source.

Process advantages
More than 20 years of rich experience, mature technology and high level of craftsmanship.

Equipment advantages
3300mm wide "1+1" hot rolling production line; self-developed (1+4) hot tandem rolling production line; multiple large-scale equipment at home and abroad.

Packaging advantages
3003 aluminum coil packaging pays attention to moisture-proof and rain-proof, to ensure that the surface of the aluminum coil is intact and scratch-free.

Price advantage
Adjacent to the raw material producing area, own power plant, 1.3 million square meter large factory, large-scale production, factory direct supply mode, and high cost-effective products.
1050 aluminum sheet manufacturers
Mingtai Aluminum is a large-scale aluminum alloy listed company, specializing in the production of aluminum alloy sheets, aluminum alloy sheets, and aluminum foil. The product category covers 1-8 series alloy grades.
To undertake bulk orders, prices in RMB and foreign currencies can be quoted. Global export. The minimum order quantity of a single specification aluminum plate is 8 tons, and the minimum order quantity of aluminum foil is 5 tons.