With the rapid growth of our country's economy, people's quality of life continues to improve, and floor heating is becoming more and more popular. Floor heating is a popular heating method at the moment. There are more and more related product categories on the market. There is a lot of knowledge about the choice of floor heating materials. , Good floor heating materials and high-quality materials are the factors that everyone is more concerned about when purchasing. Especially the floor heating needs to be buried under the floor. Its quality is not only related to the later use effect and service life. The floor heating materials can be made of aluminum alloy. The product is manufactured and its performance is relatively stable and reliable. Currently, 1060h24 aluminum foil for floor heating insulation on the market.
Excellent performance
1060h24 aluminum foil for floor heating insulation is a widely used industrial pure aluminum foil with an aluminum content of up to 99.6%. It has high plasticity, excellent processing performance, excellent thermal and electrical conductivity, and has excellent properties such as moisture-proof, oxygen-blocking, thermal insulation, and light-shielding. As the demand for floor heating in the domestic market continues to increase, the demand for 1060h24 aluminum foil for floor heating materials has also grown rapidly.
Direct selling manufacturer
Mingtai Aluminum is a manufacturer of 1060 aluminum foil. It has a development history of more than 23 years, has accumulated rich production and processing experience, and has relatively complete product specifications. Once the 1060h24 aluminum foil produced by our company was put into the market, it received great praise.The 1060 aluminum foil we produce has a wide range of thickness specifications, and we can plan production plans for your actual needs based on the actual production needs of users. The product performance is remarkable, the technical level is high, the workmanship is exquisite, its corrosion resistance is excellent, and it has good Excellent thermal conductivity, high plasticity and easy processing.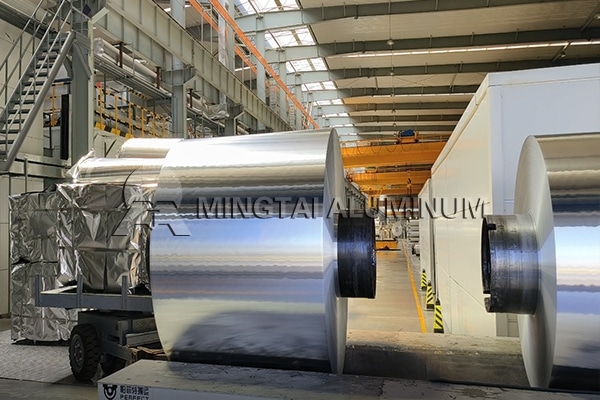 The price is advantageous
Although they are all 1060h24 aluminum foil, the selected specifications determine the price of the product.It is recommended that users directly contact the manufacturer's staff for consultation based on your actual needs to see which specification is more in line with your actual needs. At the same time, the manufacturer will give you a specific price list based on your specific selection. In this way, the quotation of 1060h24 aluminum foil for floor heating materials is more meaningful.
Mingtai aluminum foil price discount
Mingtai Aluminum is a direct-selling manufacturer, so not only do our products have complete specifications, users have a wide range of choices, but the products are all ex-factory prices, and users can enjoy a lot of discounts.On the basis of the ex-factory price, Mingtai Aluminum also provides more professional, complete and thoughtful after-sales services, which will be provided to you simultaneously for free, allowing you to purchase more worry-free and use with confidence. For more product information, you can consult the staff online.