Introduction
Aluminum sheet width 2650mm, The international standard width of aluminum sheet is 1000mm, 1220mm, 1250mm. We usually define aluminum sheet with a width of more than 1500mm as ultra -wide aluminum sheet . Mingtai Aluminum has the fourth domestic West Mark 2800mm six rollers cold rolling, hot -rolled aluminum plates produced, thin, thin, thin 0.8mm, the width of the finished product can reach 2650mm. It is a few manufacturers that can produce aluminum sheet width 2650mm in China.
The aluminum sheet width 2650mm produced by Mingtai Aluminum not only have better product boards, more smooth and delicate surfaces, smaller thickness tolerances, and better oxidation effects. After testing, various indicators are far beyond the national standard.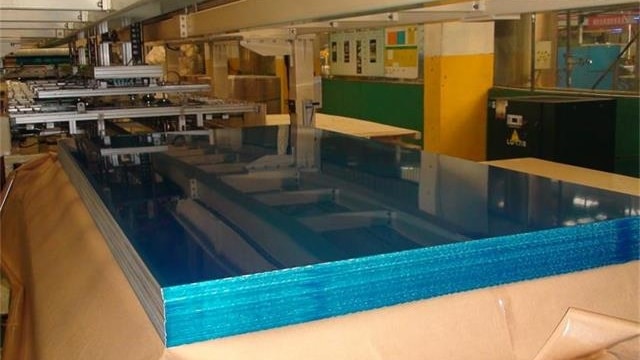 Technical parameter
Temper

O、H*2、H*4、H18、H111、H112、T4、T6、T651

Thickness

0.2-100mmmm

Width

20-2650mm

Length

500-16000

Typical products

Wide -scale curtain wall board, car, ship, homeline, warehouse, fuel tank
The Market Applications of aluminum sheet width 2650mm
Aluminum sheet width 2650mm are widely applicable to wide -scale curtain wall boards, cars, ships, homelines, warehouses, fuel tanks, antenna pot materials, LNG storage tanks, aluminum bottle caps, molds and other fields.
How much is the price of aluminum sheet width 2650mm per ton
Mingtai Aluminum can produce ultra -wide and ultra -thick aluminum plates, with a width of 2650mm and a thickness of 500mm. It is a rare manufacturer of ultra -wide and ultra -thick aluminum plates in China. Our quotation consists of two parts. On the day of shipment, the average price of the A00 aluminum ingot of the Yangtze River A00 is+processing fee. Specific processing fee is determined by product status, specifications, and dosage
Aluminum Sheet width 2650mm Manufacturers:
1. Strong strength
Mingtai Aluminum has factories in Zhengzhou, Gongyi, Xingyang and other places, and offices in Kunshan, Dongguan, Chongqing, South Korea and other regions. China's top 500 private manufacturing enterprises.
2. Advanced equipment
Mingtai Aluminum introduced a six-high cold rolling mill from SMS SMS from Germany. Production of ultra-wide and ultra-thick aluminum plates, the width can reach 2650mm, the thickness can reach 500mm, the internal stress is eliminated, and the cutting is not deformed. It is a rare manufacturer in China that can produce ultra-wide and ultra-thick aluminum plates.
3. Complete products
Mingtai Aluminum is a large-scale aluminum alloy listed company, specializing in the production of aluminum sheets, aluminum coils, and aluminum foils. The product category covers 1-8 series alloy grades. To undertake large orders, RMB/foreign currency prices can be quoted. Global export.