Introduction
1070 aluminum foil is a series of pure aluminum products, the aluminum content can reach more than 99.7%. Due to the single component and relatively simple manufacturing process, it has a price advantage. 1070 aluminum foil has many advantages, such as high plasticity. So it works well for spacers and capacitors made of aluminum foil. The foil rolling machine launched by Mingtai is designed and installed by Zhuoshen Company. It adopts ANDRITZ plate rolling machine and adopts full hydraulic control. High-precision pressure sensor and servo valve are used to achieve precise roll gap and ensure the excellent quality of 1070 aluminum foil. Mingtai Aluminum's 1070 aluminum foil is used for electronic foil, with a market share of more than 80%. The product has stable performance and high quality.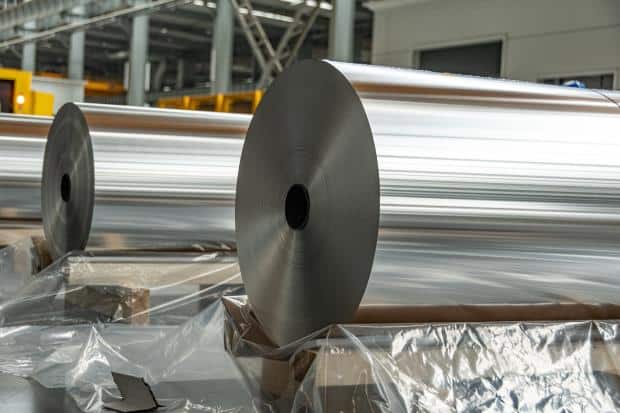 Technical parameter
The Use Of 1070 Aluminum Foil
For electronic cables: 1070 aluminum foil has excellent conductivity and can be used as battery foil, aluminum foil for transformers, etc.
Food packaging: Pure aluminum foil has good plasticity and can be used to package foods of various shapes, and can also be made into lunch boxes of different shapes.
Used in aluminum foil packaging bags: it has good light-shielding and barrier properties, high and low temperature resistance, and is often used in food, medicine and other industries.
Strength

Customizable advantages
Henan mingtai technology is tailored according to user needs.

Raw material advantages
Choose reliable large-scale suppliers, purchase key raw materials, and control quality from the source.

Process advantages
More than 20 years of rich experience, mature technology and high level of craftsmanship.

Equipment advantages
3300mm wide "1+1" hot rolling production line; self-developed (1+4) hot tandem rolling production line; multiple large-scale equipment at home and abroad.

Packaging advantages
1070 aluminum foil packaging pays attention to moisture-proof and rain-proof, to ensure that the surface of the aluminum coil is intact and scratch-free.

Price advantage
Adjacent to the raw material producing area, own power plant, 1.3 million square meter large factory, large-scale production, factory direct supply mode, and high cost-effective products.
Mingtai 1070 Aluminum Foil Manufacturer Strength
Henan Mingtai Aluminum Co., Ltd. [stock code: 601677] was established in 1997. Mingtai Aluminum is a large-scale modern aluminum processing enterprise integrating scientific research, processing and manufacturing. The company can produce 1-8 series aluminum sheet, strip and foil products with complete specifications and huge production capacity to meet your individual processing needs.
Under the jurisdiction of Zhengzhou Mingtai Industrial Co., Ltd., Zhengzhou Mingtai Transportation New Material Co., Ltd., and Zhengzhou CSR Rail Transit Equipment Co., Ltd., the company has more than 5,000 employees, total assets of 6 billion yuan, and 6 semi-continuous casting production lines. 10 continuous casting and rolling production lines, and 44 other large-scale processing equipment, with an annual output of 1 million tons.